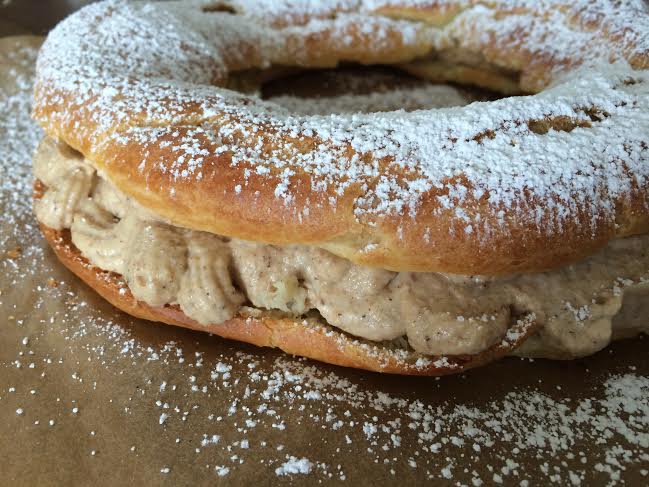 As you may know I am French and I live in suburban Southern California.  I often crave for French dishes, treats or desserts like: éclairs, tarte aux pommes, or croque monsieur. Since I can't find any of those where we live I make them at home, in my own kitchen.
A few weeks ago, I saw on Asmaa Lahlou Instagram feed (@Theglobaltaster) located in Philadelphia  a gorgeous picture of a Paris Brest pastry she bought at her local Pastry shop and just looking at the picture I wanted to taste one….so badly… it looked so scrumptious.
I never thought of making a homemade Paris Brest from scratch before. In fact,as most classic French pastries I thought it was almost impossible to make it at home… only trained French Pastry Chefs could make it. So I decided to make my own and asked Asmaa if she would like to make one also from scratch and may be open this project to other people who wanted to participate to this challenge, just for fun on Instagram.
She loved the idea and we decided to make our own Paris Brest and start this challenge.
For this challenge, few steps would need to be done and we would need to coordinate our actions. Since Asmaa is working full time and a busy mother as I am and being on east/west coast have been already a challenge to coordinate everything.
Here is what we 've planned so far:
a)       We will make our own Paris Brest,
b)      We will post / share it on the same day on Instagram  and will invite people with an Instragram feed to join the challenge
c)       We will post our recipe on our blog
I do not know Asmaa personally. But after we decided to start this project, we exchanged some emails and even Skype. She is Moroccan, lives in Philly and studied in France.  Like me she wants to share her country 's traditions, roots, culture and food witn her family. It was so great to talk to her and this is so much fun to share a passion like this with someone else. I guess technology can bring people together. This is why I L O V E Instagram this is a wonderful way to visit the world, discover talented people and met strangers that you would have never met in another way.
So what is a Paris- Brest? The Paris-Brest is a classic French pastry traditionally made of a ring of choux pastry/ pate a choux  filled with a praliné mousseline cream .
It was invented in Maisons-Laffitte (FR) by Louis Durand (pastry maker) who was on the route of the Paris-Brest-Paris bicycle race in 1891 (one of he oldest cycling race still being run) and he decided to make a celebration cake called Paris-Brest to honor the race.
The round shape is meant to evoke a bicycle wheel.
There are many possible ways to make a Paris-Brest. The choux shell is a constant, but they can be any size, , filled with either pastry cream, buttercream or whipped cream (or a combination) and flavored with praline, coffee, vanilla….
The genuine recipe calls for praline or pralin, a paste made by mixing caramelized hazelnuts and almonds: it can be store-bought or homemade and I opted for this one. This is a dream rich cream.
My recipe uses a regular pate a choux topped simply with powdered sugar when baked. The filling is a mixture of homemade whipped cream, pastry cream, buttercream and praline paste combined together for a unique and delicious mousseline a la praline…. to die for. Mine was a little too liquid. I guess I should use less whipped cream of leave the mousseline longer in the fridge.
This is definitely one French amazing dessert and everyone can make it, you just need to be organized and ready. I recommend to make the praline paste, pastry cream, buttercream and whipped cream in advance and to keep everything in the fridge. Then bake the pastry choux, then let it cool, assemble the cake and then to keep in the fridge.
RECIPES
—————————
Choux Pastry
135 grams all-purpose flour

1/4 tsp sea salt
1/2 cup whole milk
1/2 cup  water
4 large eggs, lightly beaten
Instruction for the Choux pastry
Preheat oven to 400 degrees F and place the rack in the center of the oven.
Line a baking sheet with parchment paper. Draw an eight inch (20 cm) circle ( I used a plate) on the parchment paper  to use as a guide when piping the choux pastry.
Pipe the choux pastry using a large star tip or use a large pastry bag and cut the end. Pipe one circle on the drawn circle
Place the butter, milk, and water in a heavy saucepan over medium heat and bring to a boil. Remove from heat and, with a wooden spoon, quickly stir in the flour mixture pour at once in the saucepan. Return to heat and stir constantly until the dough comes away from the sides of the pan and forms a thick smooth ball. Transfer the dough to a large bowl and stir to release the steam from the dough. Once the dough is lukewarm, start adding the lightly beaten eggs, in small additions, and continue to mix until you have a smooth thick shiny paste.
Transfer the dough to a large piping bag Pipe a 2 inch  thick ring of dough just inside the 8 inch (20 cm) circle that is drawn on the parchment paper.
Bake for 15 minutes and then reduce the oven temperature to 350 degrees F . Bake for extra 35 to 45 minutes or until the Paris Brest is a golden brown color, puffed. Turn the oven off and, with the oven door slightly ajar, let the shell dry out for about 30 minutes. Remove from oven and finish cooling on a wire rack.
——————————-
Whipped Cream
1 cup whipping cream or heavy cream
1 teaspoon vanilla
Instructions for the whipped cream
Pour the cold cream in the bowl of a stand mixer add
Begin whipping and increase mixer speed to medium and begin whipping and whip for 7 minutes. To check if the cream is ready take your whisk out of the cream: the peaks in the whipped cream will hold firmly . Store it in the refrigerator until needed.
—————————
Praliné buttercream
60 g Praline paste ( see recipe)
90 g unsalted soft butter
In a large bowl mix the butter with the paste.
————————
Pastry Cream
1 cup milk
3 egg yolks
1/3 cup sugar
¼ cup cornstarch
¼ tsp salt
1 tsp vanilla extract
2 Tbsp unsalted butter, at room temperature
Instructions for the Pastry Cream
Bring the milk to a simmer in a saucepan.
In a large heat-safe bowl, whisk together egg yolks and sugar until slightly pale.  Add in the cornstarch and mix until combined.  Pour the hot milk into the egg yolk mixture while whisking, transfer the mixture back into the saucepan, and cook over low heat while stirring with a whisk until slightly thicken.  Remove from heat and allow to cool for 15 minutes.
Pour the custard into a bowl, cover with plastic wrap (touching the surface of the custard to prevent a film from forming), and let cool.    Keep refrigerated until ready to use.
————————————————–
Hazelnut – Almond praline paste
200g of raw hazelnut
40 gr of raw almonds
160g of white sugar
Instructions  for the praline
Pour  nuts into a dry saucepan and roast under medium heat for a few minutes only.
Add sugar and stir well
Keep stirring under medium heat.
The sugar will dissolve and caramelized (darker color) after few minutes.
When the caramel is formed stop the heat.
Pour the mixture onto a plate covered with a wax or parchment paper sheet
Let it cool.
Pour the caramelized hazelnut into a stand mixer.
Mix until a paste is forming.
First you obtain a powder.
Keep mixing and it will form a nice paste.
If not add with drops of water or olive oil
Mousseline praline
In a large bowl mix gently the pastry cream with the praline, the buttercream and the whipped cream. Transfer to a pastry bag.
To Assemble:  Split the pastry round shell in half horizontally. Then pipe the praline mixture whipped cream into the center of the round shell. Place the top half of the pastry shell on the mousseline praline and dust with powdered or icing sugar.
The Paris-Brest can be served right away or refrigerated, but must be brought out thirty minutes before serving
Makes one large 8 inch (20 cm) Paris Brest.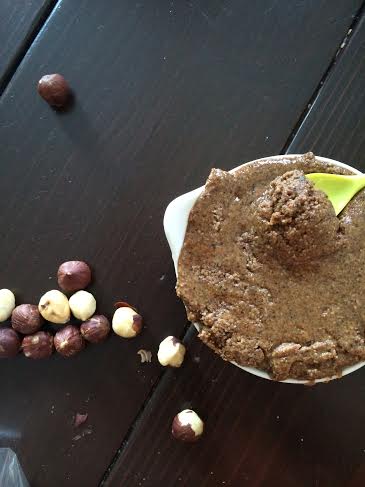 #homemadebyal&cc