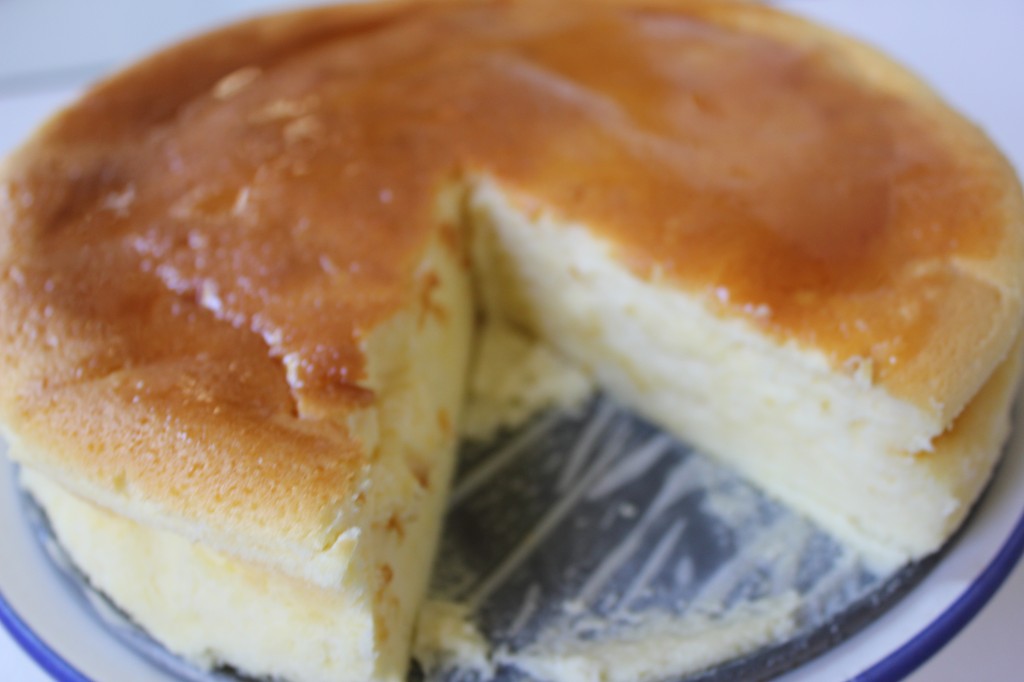 I have to tell you, Cheesecake is one of my favorite American Dessert. But it can be a pretty heavy dessert; I like to eat my cheesecake with some earl grey tea milk tea during tea time.
I think the first time I saw Japanese Cheesecake ( also called Soufflé Cheesecake) was on Pinterest and I was under the charm of these fluffy light cheesecakes pictures. So I decided to make my own… a light as a cloud , as a fluffy cheesecake sounded really good.. no?
So after searching on the web, I found a great recipe on "just one cookbook Blog " blog. I really like this blog, you should visit it if you like Japanese food.
So I adapted the original recipe I did not want to use rum since my kid will eat some ( I used lemon zest instead) and I like the lemon flavor of this cheesecake it makes it very unique. I had not Apricot preserve but a delicious homemade Quince jelly that I use as a syrup on my pancakes, crepes, ice cream…Actually I can't give you the recipe of this Quince syrup because I attended to make Quince jelly but I cooked it too much it became more like a caramel, so I use it I add some water to make it more liquid/syrup style.
I really invite you to make and try this amazing cheesecake. Believe me it will be the best cheesecake you will ever taste. I promise.
Happy Baking!
JAPANESE CHEESECAKE RECIPE ( Adapted from "Just one Cookbook" )
Serves: 9-inch cake
Ingredients
• 400 g (14.1 oz) cream cheese, at room temperature
• 60 g (6 Tbsp.) granulated sugar
• 60 g (4 Tbsp.) unsalted butter, cut into ½" (1 cm) slices, at room temperature
• 6 large egg yolks, beaten, at room temperature
• 200 ml heavy whipping cream, at room temperature
• 10 ml (2 tsp.) lemon juice
• 2 tsp organic lemon zest
• 80 g (8 Tbsp.) all-purpose flour
• 3 Tbsp. homemade Quince jelly + 1 tsp. water
For Meringue/ fluffy White eggs
• 6 egg whites
• 100g (10 Tbsp.) granulated sugar for meringue
1. Keep cream cheese, butter, egg yolks, and heavy cream at room temperature.
2. Lightly grease the bottom and sides of a 9″ (23 cm) spring-form pan with cooking spray or butter and line with parchment paper. Wrap the base of the cake pan with aluminum foil (preferably with extra-large heavy duty foil)
3. Preheat oven to 320F (160C) degree.
4. Start boiling water.
5. In the bowl of the electric mixer, beat cream cheese and sugar on medium-high speed until smooth
6. Add the butter and mix until thoroughly incorporated.
7. Add the egg yolk and heavy cream and mix well.
8. Add lemon juice and zest and mix until the batter is very smooth.
9. Sift the flour twice.
10. Add the flour all at once and mix well.
11. Transfer the batter to a large bowl. Wash the mixer bowl and dry completely.
12. Meringue: beat the egg whites until stiff peaks form. In the bowl of electric mixer, whip the egg whites on medium low speed (speed 4) till opaque and foamy and bubbly. Then add ⅓ of the sugar at a time as the mixer runs. Once all of the sugar has been added, increase the mixer speed to high (speed 10) and whip for approximately 4 minutes, until the meringue has doubled in volume and is thick and glossy.
13. To test for stiff peaks, the peaks should stand straight up when you lift up the beaters. The whites should not slide around. If the meringue has not reached the desired consistency, continue whipping at high speed for another 30 seconds, then stop and test again. Once the egg whites are over beaten, they can't be used for the recipe.
14. Add ⅓ of the meringue to the batter and mix well first.
15. Then add the rest of the meringue all at once and fold it in (not mix this time).
16. Pour the batter in the cake pan and then drop the pan from 2-3″ (5-7 cm) high to the countertop to remove any air bubbles.
17. Place the cake pan in a large roasting pan and pour 1″ (2.5 cm) of boiling water in the roasting pan. Place the baking pan in the middle rack of the oven. Bake at 320F for 60 minutes or until light golden brown. Then reduce temperature to 300F and bake for another 30 minutes.
18. When a wooden skewer inserted in the center of the cake comes out clean without wet batter, turn off the oven. Let the cake sit in the oven with the door slightly ajar for 15 minutes. Remove from the oven. Take out the cake pan from the roasting pan, and let it cool on a wire rack.
19. in a small bowl, heat quince syrup and water in microwave for 30 seconds and spread the jam on top of the cake. When the cake is completely cool, take it out from the pan and refrigerate for a few hours before serving. Cut the cake with warm knife (run a knife under hot water and wipe off completely before each cut).