Indulge your Valentine's sweet tooth with  these decadent, aphrodisiac and healthy homemade rochers!
These super easy to make rochers, have always been my all time favorite chocolate. I love dark chocolate and hazelnuts together. I thought some jasmin flavor would be a nice touch. So I used Nunshen 73 jasmin tea bag – black tea- ( see my previous post about Nunshen teas Orange blood and tea cake). The more you infuse your tea bag in the cream/ milk mixture stonger the jasmin flavor will be. So I let the tea bag infused for 5 hours.
You can use any kind of chocolate: milk, 72% dark or as I did:semi-sweet chocolate. If you do not like hazelnut you can use any nuts: almond, pistachio even peanuts.
These are the healthiest (yes for antioxidants and iron) and most delicious chocolate/hazelnut rochers you'll ever eat with no preservatives or additives. They can be keptfor a few days in the fridge if you manage to restrict yourself, but I doubt!
These will pair perfectly with some real French bubbling Champagne or some Nushen Jasmin tea nunshen!
Happy Valentines Day!
Flavored jasmin chocolate hazelnut rochers
Make 6  small- medium size rochers
3 Tbsp Heavy  Cream
2 Tbsp Whole Milk
1 Jasmin Nunshen # 73 tea bag
3 Tbsp crushed raw hazelnut + extra crushed raw hazelnut
2 Tbsp ( or more) Powdered sugar
4- 6 oz semi sweet chocolate chips
In a small saucepan heat the cream and milk until almost boiling. Then add you tea bag and cover for at least 6 hours.
In a small skillet add the nuts and toast under medium heat. Add the sugar and keep mixing until it smells like caramel. Do not over cook or burn it. Keep an eye on it. Set aside to cool down.
When the tea is well infused, discard the tea bag. Place the cream/milk in a saucepan and heat on medium heat .When starting bubbling turn off the heat and add the chocolate. Let it infuse for a few seconds then with a wisk or spatula mix the chocolate into the still warm cream/ milk. Mix well until smooth. Add the caramelized nuts and mix well. Leave in a cool area or fridge until firm.
Take a spoon and with your hand roll the chocolate mixture then roll on the extra crushed  hazelnut.
Enjoy!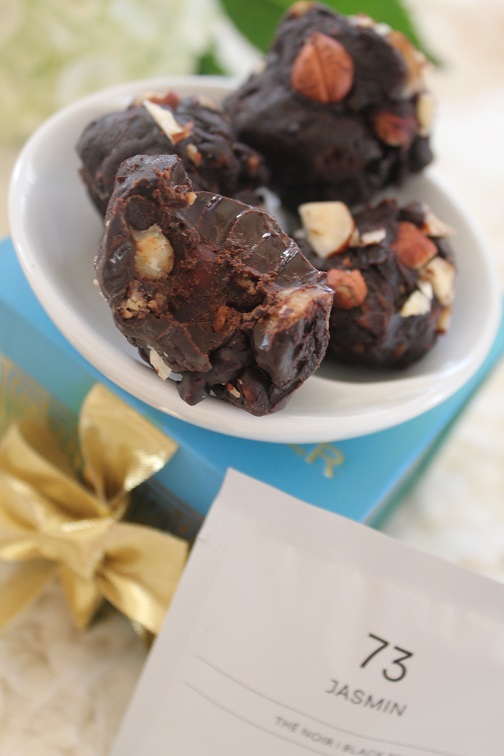 Jasmin Hazelnut homemade rochers for Valentines