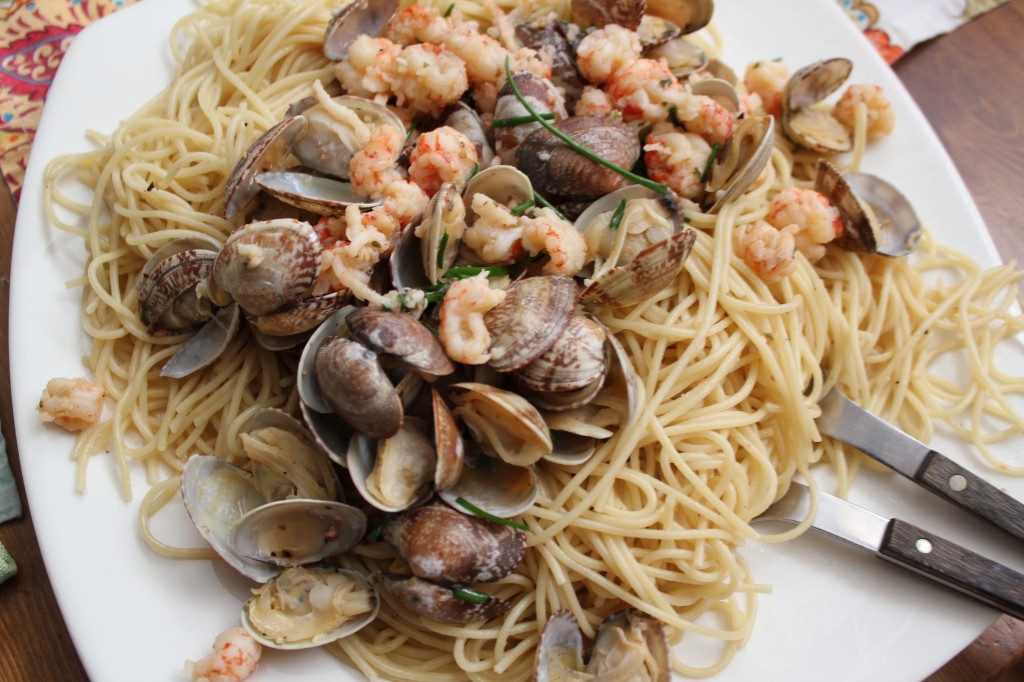 Sometimes the simple dishes are the best.  But the ambiance, the souvenir, the memory, the surrounding, and the specific situation makes what you eat super delicious and unforgetable.
I discovered "Spaghetti alle vongole " in my not even 20′s  travelling with Joel to Italy.
We spent two amazing weeks discovering, visiting, drinking, eating, tanning, exploring Italian cities treasures ( Capri Island, Napoli, Roma, Pompei ruins…). We were starving and strugling students but so into adventures, travel, discoveries, freedom….nothing was stopping us.
We enjoyed so much our Italian escapade and loved every minute spent  in our little and so cute Sorrento town and the surroundings. The coast was stunning.
One morning, we decided to spend the day at the beach. We did not have a car so we usually took the bus, hitchhiked, rented a vespa or we had to walk. Someone mentionned a fantastic little beach not too far from our camping, but it was deep down the hill, and not having a car and it was pretty hard to get down there and it was always taking us (me) long time to arrive at the beach. It was a little creek with turquoise cristal warm water just located between Almafi and Sorrento, a few small restaurants were lined up their feet into the sand and water. One day, we spent the morning snorkelling into the clear waters. But when we reached our beach towel the delicious smells from the restaurants wanted us to taste their food and we decided to eat al fresco in one of the little family owned restaurant.  . It was the perfect spot to watch Italian kids and families having fun at the beach and stay cool  during a super hot August day drinking up some "cafe al fredo" and "iced tea'.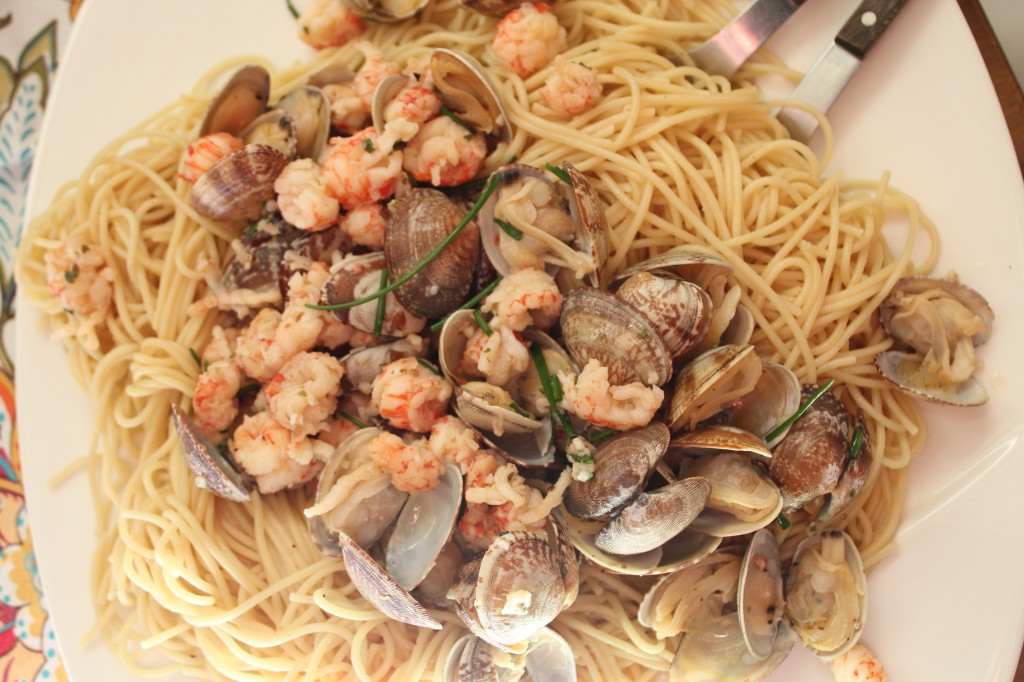 The menu was simple but very promissing. We ordered "Spaghetti alle vongole " .
And it was all we could expect, fresh, tasty perfectly cooked and seasonned with plenty of fresh caught up seafood and perfect al dente spaghetti.
We then ordered some espresso and gelato. We finished to spend the day at the beach. Then on our way up (already exausted at the thought of walking up the hill) an Italian mama stopped her tiny Fiat car and proposed us  to drive us back to the top. It was a kind of epic drive the car was so small and the turns so deep… but we managed to arrive… alive. And I guess this is a fun and memorable souvenir. We were so thankful to have a ride up.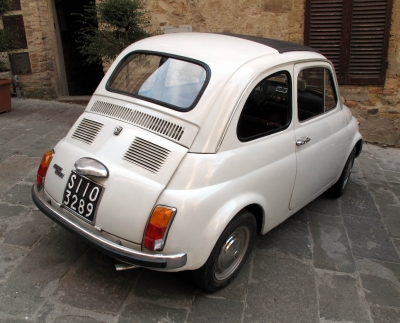 Today I am sharing a similar recipe with a lot of shortcuts and not as perfect and fresh as the one served in Italy  but it was very good…. .and I was so happy to eat this dish years later again with the same person I did years and years ago.
 Spaghetti alle vongole  (Adapted from Jamie Oliver Recipe)
1 16 oz package Steamers clams in garlic butter sauce
1 small bunch fresh flat-leaf parsley, chopped or chives
2 cloves of garlic, pressed
 1/3 cup white wine
½ package =8oz High fiber dried spaghetti
sea salt
freshly ground black pepper
extra virgin olive oil
1 12 oz package frozen  langostinos
lemon juice
* All Trader Joe's Ingredients
Cook your pasta in boiling salted water according to packet instructions, until al dente, then drain.
Meanwhile, get a large pan on a medium heat and allow it to get hot. Put 2 generous lugs of extra virgin olive oil into the hot pan and add the garlic, langostinos, clams with butter juice,half the parsley and pepper. Stir everything around constantly and pour in the wine. Put the lid on and shake the pan as they cook. Take the pan off the heat.
Add the spagetti to the pan of clams along with the remaining parsley and an extra drizzle of extra virgin olive oil and lemon juice. Stir or toss for a further minute or two to let the cooking juices from the clams be absorbed into the pasta.
Serve right away with fresh hunks of bread to mop up the juices.