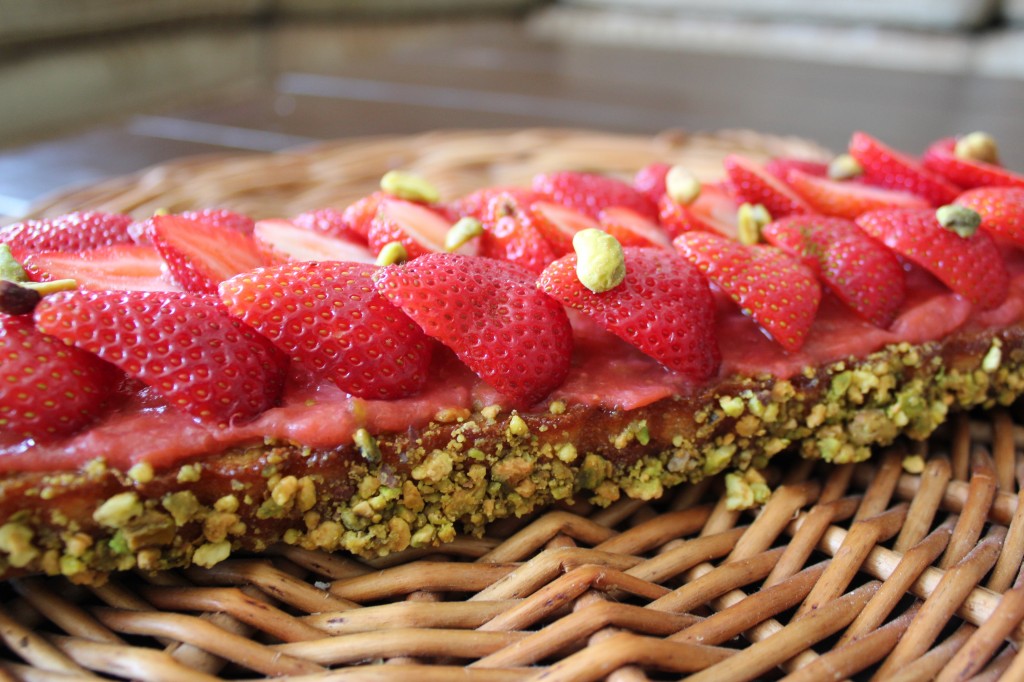 STRAWBERRY AND PISTACHIO TART ( Adapted from Michalak recipe)
 In Southern Caifornia, the first strawberries appear usually in January. Then their pick season is around Easter. Then during Summer we have the best fruits, sweet, soft, ripe and perfect:  stones fruits, then figs, grapes… we forget about … strawberries. But I guess Strawberry is still one of my favorite fruit because it is so versatile raw ( juice, smoothie, salad, yogurt, in tart…) or cooked ( marmelade, jam,….). A good strawberry should be small, smell like heaven, sweet not too firm not too soft.
Last week was "back to school" and even if my son is sick ( and is still sick from a bad virus) I wanted to share with you one lovely Strawberry recipe because the one you see now at the market may be the last ones…
Do not forget to eat Organic Strawberries the conventional ones are full of pesticides and yuky stuff. True they are more expensive but if  I like better eat less organic that plenty conventionional.
For this tart, I used Michalak recipe to make the shortbread and decor but I decided to go with something simpler working with different layers:
The shortbread dough + creme anglaise + marmalade + fresh strawberries. The result " une tuerie" how my French Foodies Friends would say.
RECIPE
For the Shortbread dough:

4 g baking powder
20 g caster sugar
110 g butter at room temperature
20 g almond flour or meal
For the Creme Anglaise
235 ml heavy cream
10 ml vanilla extract
4 egg yolks
65 g white sugar
For the Strawberry marmalade:

Decor:

 1/2 kg of fresh strawberries, very thinly sliced
 50 g pistachios, finely chopped
Crème anglaise
    In a small, heavy saucepan, heat cream and vanilla until bubbles form at edges.
    While cream is heating, whisk together egg yolks and sugar until smooth. Slowly pour 1/2 cup of hot milk mixture into egg yolks, whisking constantly. Gradually add egg yolk mixture back to remaining milk mixture, whisking constantly. Continue to cook, stirring constantly, until the mixture coats the back of a spoon.
Strawberry marmelade
In a saucepan place water, strawberries and sugar.
Cook on medium heat and stir.
Cook until the fruits are tender and smooth.
Shortcrust pastry:
Preheat the oven to 350 F.
In a food processor, with "paddle" combine the flour, baking powder, powdered sugar, cut into small pieces of butter, almond flour and salt. The finished dough, roll out to a thickness of 2 mm, place on a pan tart ( I used the long Rectangle quiche pan with fluted edges and a removable bottom lined with  parchment paper .
With a fork pok the Surface of the dough very well. Bake shortcake 20 minutes.
Remove from oven and set aside. Do not remove the frame.
Assemble.
On the baked shortbread dough delicately spread the crème angaise then place back in the fridge for at least 1 hour. Then later spread the marmalade. Place strawberry slices on the marmalade.
With a knife spread the jam all around the cake and place the pistachios with your fingers and press it with the back of a spoon.
Place in the fridge for a few hours. With a sharpened knife cut slices then leave them a few minutes at room temperature .
Bon Appetit