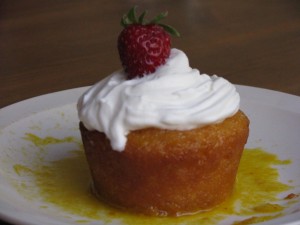 This morning on my way to the Public Library I stopped at Truly Madly Sweetly a little "family owned and operated bakery specializing in creative and distinctive cheesecakes and cupcakes, combining classic fresh French training with a fresh and delicious homemade taste".
I never been inside and since I noticed that they are opening another store at La Promenade Temecula CA, I thought that to stop at this shop in Murrieta, and have a look would be worth it. Nice boutique but no charm or anything as a real Parisian French Pastry Shop. No smell either. I like to enter a bakery where it smell cookies, cakes, sugar.
I looked at the tiny-mini Cheesecakes, very small indeed and read their names. Some sounded interesting: hummingbird ,pucker up ,almond bliss …but I was thinking oh my God a single bite and it is gone!They are so small, they looked cute but small. So when I asked the lady how much were the Cheesecakes and when she said $3 I could not believe it. $ 3 for a small bite. I am sure they use natural ingredients, no dyes… OK, OK I think this is wonderful and I am sure that these cheesecakes one day I will try them. Their Cupcakes same thing pretty small but a little bigger that the cheesecakes are $2.75 each
filled cupcakes are $3.00 each. Again I was in schock.
Well sorry but I left without buying any. First because I am not a big fan of Cupcakes, I prefer a good Cheesecake but one bite is never enough and the prices were well pricey.
Once in a while I like delicious cakes, cookies…like everyone I guess.
So when my sister and my niece sent me "Sucre" le Livre Laduree Paris I was thrilled. Inside the book 100 recipes from the Pastry Chef at the prestigious Laduree Paris. This book is a precious object, designed to look and feel like one of their cult boxes of macarons, famous for their pastel colors and sophistication.
You want to eat every single page. So when my 6 year daugther decided to have this book on her bedside to decide which pastry we will make together I was happy.
After a long time, turning, studying each page we decided to go for " Savarin" , better known as a Baba in the UK, is a light, sophisticated summer dessert. A light yeast dough is baked and submerged in a hot syrup of Grand Marnier and secret spices . Because I was baking with my daughter and because she and her brother will eat it I used homemade Orange juice with sugar instead. We left it to cool, finish with chantilly cream, strawberries Too good.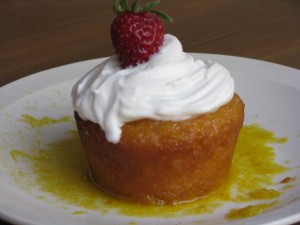 Savarin Adapted from "Sucre" Laduree book
Cake
• 1-1/2 teaspoons yeast
• 1 tablespoon sugar
• 1/2 teaspoon salt
• 2 tablespoons warm water
• 4 large eggs, lightly beaten
• 2 tablespoons milk
• Organic Lemon zest
• 1 cup flour
• 1/4 cup butter, softened
Syrup
• 2 cups fresh squeezed orange juice
• 1/4 cups sugar
• Organic lemon zest
Topping
• 2 cups heavy cream
• A few drops of vanilla extract
• 1 to 2 Tbsp sugar
• A few generous handfuls of fresh strawberries
Directions
Cake
1. Butter and flour a 10-inch/25 cm ring mould. Mix the yeast, sugar, salt, and warm water in a large bowl and let stand 5 minutes. Add the eggs, milk, zest, and flour. Beat vigorously in a stand-up mixture with paddle attachment for a full 10 minutes. This is necessary to make the dough smooth and elastic, pulling away from the sides of the bowl, which will result in a very light, fine-textured cake. Cover and let rise in a warm place for an hour.
2. Punch down the dough. Beat in the softened butter, a piece at a time, until fully incorporated. Spoon the mixture into the mould, evenly. Cover, and let rise again for two hours.
3. Heat the oven to 350°F/175°C. Bake the Savarin until golden brown, 20 minutes. Remove from mould onto a cooling rack, then transfer to a large serving platter.
Syrup
1. For the syrup, bring the water and sugar to a boil in a saucepan 1 minute. Stir the orange juice and zest. Ladle the syrup over the cake, until fully absorbed. The cake will expand and become very sponge-like in texture.
Topping
1. To serve, whip the cream with the vanilla and sugar. Dollop of whipped cream on the top of the savarin and, if desired, a shot of orange juice pour over warm cake.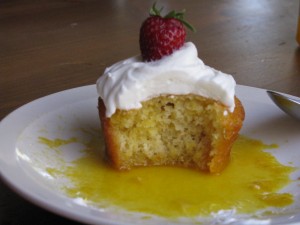 Very proud of my daughter Z. who chose the cake and helped me in every step, and of course she devored it and her brother too!