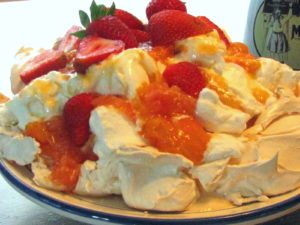 Forget about Chocolate for Valentine's Day next year! Try this decadent, sweet, sinful, velvety, crunchy dessert: make it, bake it, wait a long time, then finish, decorate  it and grab  2 spoons one for your loved one and one for you.
Every bite were pure heaven!
Recently , Pavlova has been a popular dessert within Food Blogs and Magazines. So when I bought Donna Hay magazine, I saw a beautiful, stunning Pavlova : Pavlova Recipe
As you will see this a very easy recipe !
For the topping I cooked fresh peaches, apricots and grapefruits from our local Farmer's Market and add a little sugar, like a puree or marmalade, then I top it with fresh strawberries. The sauce was not too sweet a little tart with the sweetness of the Meringue and the Creme Chantilly is was perfection.
When you have people over for a dinner make this dessert, they will be astonished by your capacity of making a such delicious dessert, and you can keep your little secret: Pavlova is so easy to make.