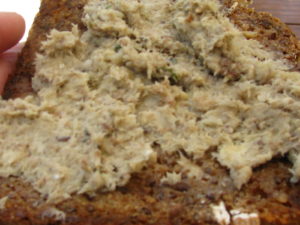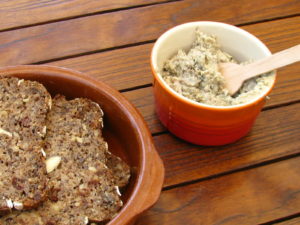 Sardines Spread
Nice weather, not too cool not too warm today in So-Cal. Perfect for a Picnic! What about a picnic in our backyard I thought?. It is the end of the month and the end of the week do my fridge is pretty empty as my pantry… We try to eat twice a week some fish : fresh and canned. Oily fish is the best packed with Omega 3. I checked in my pantry and found some Sardines…(small fish no mercury). With our slow economy creating new, exiting recipes can be hard on the budget, if most of the recipes you see on my Blog and during my Cooking Demonstration and Cooking Classes  are never expensive. I need to think always non-expensive recipes… healthy too… Today with only few things and fresh ingredients you can eat a delicious and unusual lunch.
Sardines Spread – Sardines in olive oil – Dijon Mustard 1 tsp – Soft Butter 2 tsp – Salt – pepper – 4 Peppermint leaves shredded – 1tsp lemon juice In a medium bowl put your sardines( drained), mustard, butter, salt, pepper, lemon juice and peppermint leaves. Mix everything with a fork until you have a smooth and velvety texture.
I served it with trader Joe's Cranberries and Hazelnut bread…. DELICIOUS
Celine's Salad # 2 – Organic green mix – 1/2 Grapefruit cut in small pieces – feta cheese – Halzenut – 2 tsp Halzenut oil – 1/2 lemon juice + some grapefruit juice from your grapefruit Mix all ingredients. Add the olive oil, lemon juice at the last moment. The salad was refreshing and crunchy, I like using Lemon/ Grapefruit juice ( Vitamic C) instead of Vinegar spread full of flavor. I enjoyed the peppermint in the spread, just a little was perfect! Voila a Healthy, quick, picnic in the most amazing surrounding my So Cal garden!