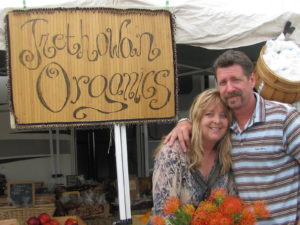 Ron and Eva Trethowan. Owners. A charming & Happy Couple.
I love all Farmer's Markets. I loved the one we had in Paris ( bien sur!). I had the one we had in the Basque Country. I love the one we had in Union Square NYC. I like the one in La Jolla, Temecula.
So when I heard that Murrieta was having also her own Farmer's Market I was wondering what we would get. The first weeks the parking lot was very busy. Then recently I noted it was a little bit slow. I like to go to this one because it is close to my home, and I met Ron and Eva Trethowan owners of an Organic farm, in Fallbrook CA. They are the sweetest people I met at Farmer's market, because I am sure you agreed, some vendors at Farmers' Market can be not that nice. Ron and Eva are wonderful, they  talk to their customers, They answer to their questions. they give  cooking and recipes advices. They listen to them. And they love so much their Organic Fruits, Vegetables… Eva is very talented and creative and  is always looking for new ideas to use her Organic produces. In fact, as I am writting this post I am sipping her delicious Organic Fruit Infusion Tea, very tasty and subtile. She makes also flavored salt, dried fruits….
You can met Eva and Ron at several Farmers Markets: Temecula on wednesday and Murrieta on Saturday and also Solana beach….
I was attracted by their unique and lovely display here are some pictures: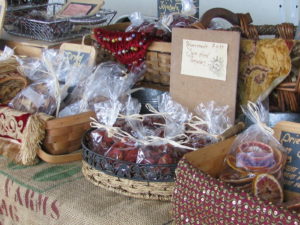 Eva loves pretty things, she is using beautiful vintage fabrics, cute baskets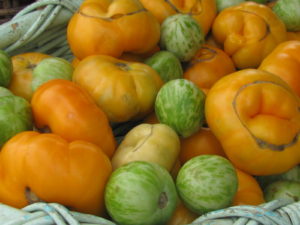 Colorful Heirloom Tomatoes for delicious Summer salads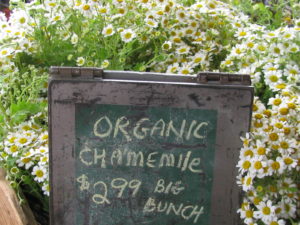 When was the last time you saw fresh Camomile Flowers. Pretty !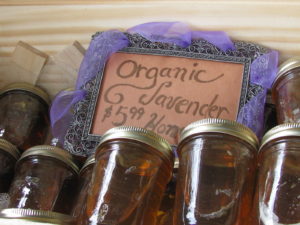 Amber – Golden Organic Lavender Honey. Next time I buy it!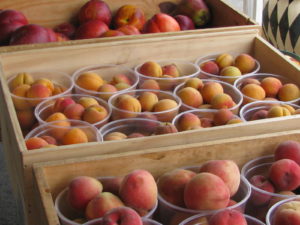 Cute tiny white peaches so Good I have to buy more That I wanted my daughter loves them!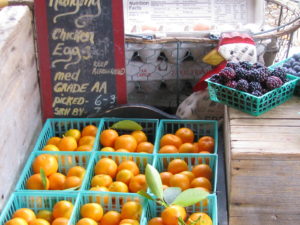 In the  background the best Fresh, REAL Free Range  eggs you can find in the area. My omelets are Orange! Talking about corn-fed chicken!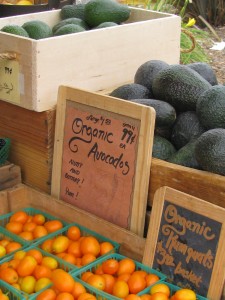 So lovely so cute!
Support your local community, visit and buy local produces!