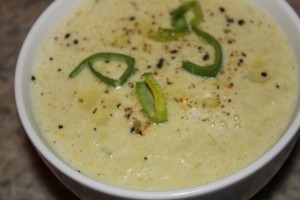 Great and delicious food does not need to be complicated and fancy.
Really simple cooking technique can make big effect. What is really important is using the best and delicious seasonal ingredients you can find.
I discovered this recipe through Sooishi Blog few months ago by chance and loved this blog and its philosophy about simple food and cooking. On the other hand Chef Fumiko Ono has been on the French spot for years since she received the best culinary training in France and is very talented. I heard her cookbook is wonderful too!
I adapted the original recipe because I found lately locally grown leeks at my farmer's market and we are big fan of leeks in the family. I use leeks in soup, savory tarts, gratin, en vinaigrette
I could eat this soup over and over, I am never fed up of this soup: it is light, healthy and delicious.
I hope you will make it soon!
Enjoy!
you can see the video here La Soupe de Fumiko Ono by Sooishi
Leek soup as light as a cloud
Makes 6 cups
2 leeks cleaned and diced
1 small onion diced
2 Tbsp salted butter
4 cups 2% Organic milk
salt
fresh ground pepper
olive oil
Peel and chop onion. In a large saucepan melt the butter. Add the onion until transparent. Add leeks and salt. Cook and stir for 5-10 minute until tender.
In another pan heat the milk. When the milk is hot add it to the onions/leeks mixture.
Pour in a blender and mix until frothy.
Serve in cups o bow add 2-3 drops of olive oil, fresh pepper.
Serve immediately.