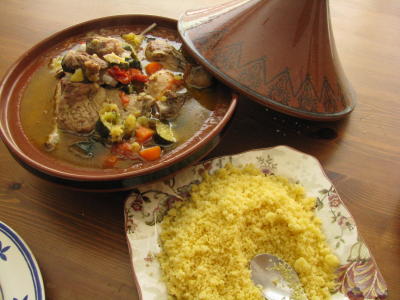 A friend told me once that Southern California reminds her Morocco ( North Africa), same climate, same decor, like in Marroco we have fresh dates, olive oil, wine, avocado, almonds….really similar. I like to think I am living in Morocco.
Again savors, smells , scents can transport your senses far away. This is what I like about cooking. I like thinking of the dish I will prepare, the ingredients, where to find the best ones.
My mother makes the most delicious Moroccan Couscous. In the kitchen we all help to do the prep. She makes it during cold winter or warm summer, it does not matter, Couscous is always delicious, and when we have some fresh Mint in my father's Vegetables/ herb gardens we finish our Moroccan Feast with a refreshing and sweet Moroccan Mint Tea.
This recipe is from my mother, who received it from her mother, who learned the technique from a Fatma in Moroccan where my grandparents and their daughters used to live in the 40′s.
The great thing about couscous, is that the day after and the following day the Couscous dish is so delicious.
This is the perfect dish for the entire family.
1  onion chopped
3-4 tomatoes chopped
1/4 C Olive oil
1 Tbsp sea salt + 1 tsp
3 tsp pepper
1 tsp Moroccan spices or Ras el Hanout spices
3 turnips, peeled, chopped
10 carrots, peeled, chopped
4  zucchini sliced
half pumpkin or citrouille cubed
3 sweet potatoes, peeled, cubed
1 can chickpeas
Raisins (optional)
6 Organic Chicken legs
4 medium Lamb Riplets
2 tablespoons butter, divided
Place the meat, onion, tomatoes, oil, salt, pepper and spices in the bottom of a large soup/ stew pot. Cook for about 10 minutes on medium heat.
Add  3 quarts of water and bring to a boil over high heat. Reduce the heat  and simmer for 40 minutes.
Oil the steamer basket of a couscoussier  and place the couscous grains in it and steam the couscous until al dente above the meat/ tomato pot.
Once the couscous is al dente place the couscous grains still hot on a kitchen cloth and flatten evenly the grains with a spoon. Add 1 Tablespoon of  butter and rub it all over the couscous with a fork.Set aside.
Add all remaining vegetables in the pot and cook for another 25 minutes.
Place the steamer basket on top of the couscoussier, and steam the couscous a second time for 10 minutes. Once the couscous is soft place again the couscous grains still hot on a kitchen cloth and flatten the coucous with a spoon. Add the rest of the butter,salt and rub it all over the couscous with a fork.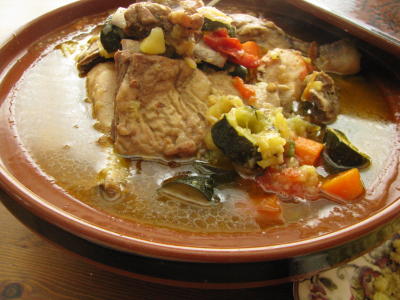 Harrissa sauce: on the side mix some broth with the Harrissa spice, add some raisins and pour on the couscous
Serve the meat/ vegetables over the couscous grains.
Celine's Sources:
* Vegetables: Temecula Farmer's Market
* Grass-fed Meat: MMLivestock Megan Temecula Megan Tel 951 259 2072
* Fresh Mint from Trethowan Organic Farm Temecula Farmer's Market
* Gunpowder to make Morocan Mint Tea + Morrocan spices : Old Town Spices Merchant
* Harissa World Market